It's almost time! Almost time to shop the new Catherine Pooler "Summer Nights" collection! If you are a StampNation member, you get to shop tomorrow at 12 noon ET. The entire release goes live to the public on Wednesday at 9am ET.
Become a StampNation member...
There are three ways to subscribe... a yearly membership, a quarterly membership or just try it out with a monthly subscription! Membership has it's PERKS!!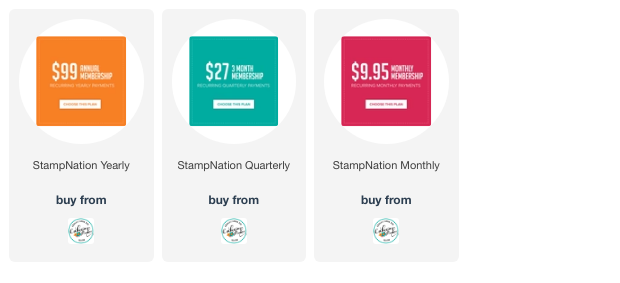 Today I'm sharing another fun interactive card featuring that adorable "Camping Lantern Die" and our fabulous new "Cozy Plaid Background" stamp set.

First I stamped that beautiful plaid using some Daydream and Juniper Mist inks. I like the almost "glow" of the plaid! Then I cut a lantern and coloured it up with my Copic Markers! I adhered some vellum to the glass globe part of the lantern to add a haze to the globe.

Next I backed it with a piece of white cardstock and attached the colored flame part of the die cut. I hole punched a small hole in the flame so my LED light would show through.

My circuit inside used the amazing products by Chibitronics. I used a yellow LED Light Sticker along with some Copper Tape and created my circuit so that when you press the sentiment ion the card front, you complete the circuit and the yellow light, lights up.

Check out my very short video on how it works...
Thanks for checking out my super fun card today!
Join us for our LIVE events....
I hope you get to craft soon!
~ Ally ~
All new CP products go LIVE in the CP Shop on Wed. May 4th. Shop on Tuesday if you're a StampNation member. This post contains affiliate links at no extra cost to you...